Great interiors tell a story. You're in a little French villa with divinely painted furniture and charming textured walls. Sweet lavender perfumes the air. You sip soothing tea while you gaze at the breathtaking landscape beyond. Oh wait, you're not in a villa. But, you are enjoying your enticing living room.
What's the recipe for a seductive interior? The most inviting spaces have visual interest and depth. And the simplest way to give a dull space an unexpected and alluring touch is incorporating metallic details. Adding a touch of glimmering metal can instantly make a room more glamorous. By reflecting light, metal instantly draws in your eye and adds opulence.
3 Ways to Add a Seductive Shine
Gilding Wax
An effortless way to incorporate metallic details to the pieces in your home is to add a touch of gilding wax. Gilding wax is made from very fine metal particles coated with wax and acrylic resin. Annie Sloan Gilding Wax is now available and it allows you to put shine in exactly the place you need it. Apply it to ornate carvings and moldings to enhance texture and detailing, give a pop to hardware or use with a stencil to create gilded shapes and designs. Gilding Wax can be applied with a lint-free cloth, a brush or your fingers.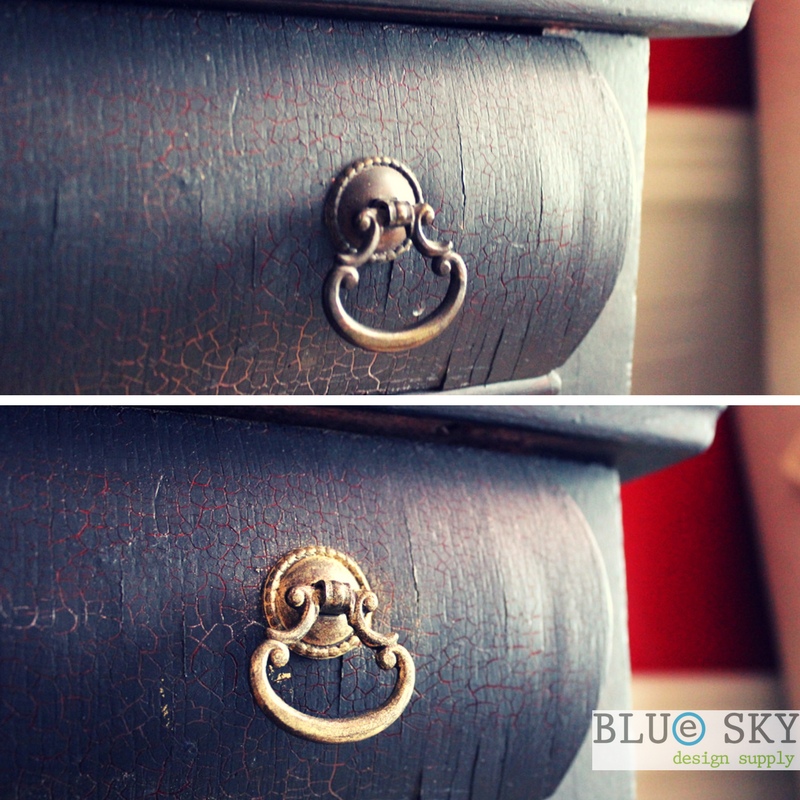 Foil
Add drama to an unassuming objects with metallic foil. We took this simple pine tray and added a gold insert. You can do the same on any of your painted furniture or accessories in just a few easy steps. (1) First determine the area you want to cover. (2) Cover the area with an even layer of Artisan Enhancements Leaf and Foil Size. Let it sit for approximately 30 minutes to tack up. (3) Once the Size is transparent, press the foil firmly onto the surface shiny side up. (4) Layer with Clear Topcoat or Annie Sloan Soft Wax.

Wallpaper
In an airy space with a neutral palette a large metallic statement piece is gorgeous. Adding a gold or brass graphic will add warmth and texture. A metallic patterned wallpaper serves as a dramatic backdrop. Tempaper is a self-adhesive, removable wallpaper.  Using Tempaper, this project easily be completed in one afternoon. Learn more here.