I found a beautiful rustic piece of wood in my basement more than 10 years ago. I loved the patina and the greenish hue. I didn't really know what to do with it until one day out of the blue, inspiration hit. I wanted to make a farmhouse style sign. And it had to be super easy, so I wouldn't take another 10 years to finish it.

Step 1. Whitewash
Even though I love the colors on this old board, it's too dark for lettering to pop on the sign. I used a tablespoon of Pure White Chalk Paint® and water to whitewash the entire board. I applied the paint/water with a brush and wiped it back with a rag. Here's the before and after of the paint application. You can still see the color variations. It's just a bit lighter.
I could have used Milk Paint for this instead of Chalk Paint (both offer a matte finish). I ultimately choose Chalk Paint because I had no idea what was on the board and Chalk Paint tends to stick to everything.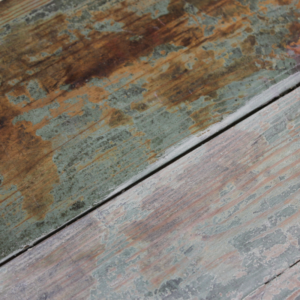 Step 2. Quick Image Transfer
Here's one of the many ways to cut down on time. You will see in the pictures, I am using an image transfer from Iron Orchid Designs. We sell several images at Blue Sky, including this one. Admittedly, I read the box wrong (looked at the length in centimeters) and totally misjudged how huge the transfer was. It was bigger than my piece of wood. But one of the wonderful things about the IOD Image Transfer is that you can use as little or as much as you want. I decided to just use the "FARM" in the farmhouse transfer. I centered that portion on my sign and taped it into position.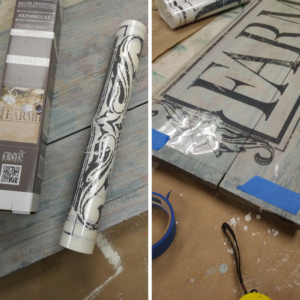 Then I rubbed the transfer with a flat edge. One is provided in the box or you could use a credit or gift card. You will see that the only the part you rub transfers onto the wood. It's very easy, but you do have to rub over the area evenly and consistently for the image to transfer.

Step 3. Position Additional Lettering
Here's another way to put lettering on a sign (when you can't freehand and have horrible handwriting like me). Pick a font and size you like. Print it out. Then use a pencil to shade the back of the paper. This is a quick way to make your own carbon paper. Position the text where you want it and firmly trace the outline of the lettering. When you lift the paper, you should see the outline of the lettering. If it doesn't work, put more shading on the back. It will be very faint, but you can use what comes through to "connect the dots" and get the gist of how the lettering should look.  You will know exactly how your lettering should be spaced for the next step – filling in the outline.
Step 4. Fill in Lettering
With my pencil outline of "to table" already made, I took a marker and lined the lettering. It's kind of like using lipliner before lipstick. There's less bleeding when you use paint. Here's a tip. For a rustic look, do not use a make a solid outline. Instead, use irregularly sized dashes. This will help it look more like an aged finish.
Afterwards, fill in the outline with paint. I used Graphite Chalk Paint®. After the paint dried, I gave it a light sanding.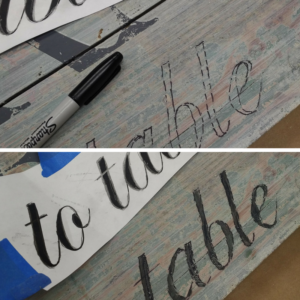 Ultimate Results
I provided a lot of details for the making of the sign. But that doesn't mean it takes a long time. You could easily do finish all the steps (including drying time) in a few hours.