Embellishing your painted furniture with stencils is a simple way to add excitement to the design.  It's also the perfect opportunity to add a textural element and make a unique statement. Adding a raised stencil (as opposed to just paint) is easy and fun.  To create a raised stencil effect, all you need is plaster.
Before you get started on your walls or furniture, we suggest you work out your technique and color combinations on a sample board first. Use a piece of cardboard or scrap wood and get comfortable with the process.
Decide on the placement of your stencils and position it with pieces of low tack painters tape or a spray adhesive. Make sure it is taut against the wall or furniture to prevent the plaster from seeping underneath.
Stir the plaster well and put some of it on your putty knife. Trowel right over the secured stencil keeping your knife at about a 40-degree angle. Try to avoid going back and forth too many times since it may move around the stencil and create bleeding.
When your stencil design is fully covered with plaster, lift the stencil straight up while the plaster is still wet. Then place it in the next desired position. If you see any imperfections, you can carefully tidy it up by hand. Clean your stencil while the plaster is still wet, immediately after you are done.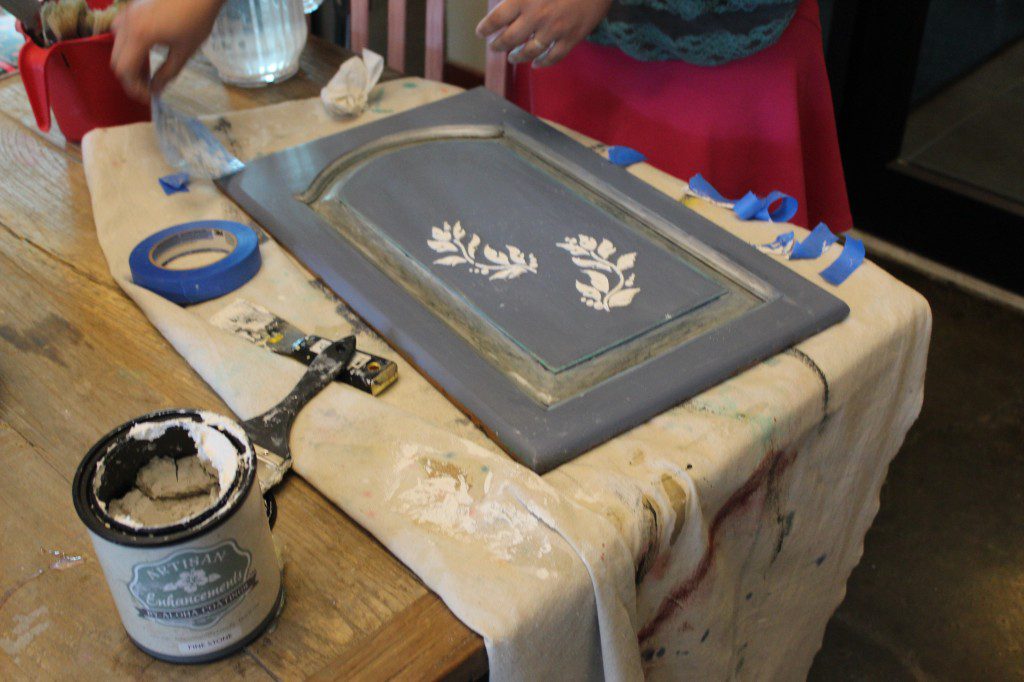 Wait until the plaster dries and decide if you want to add more effects. In this design, we added a bit of gilding paste. The specks of metallic silver catch the light, adding a whimsical twinkle. Here are a few more tips for raised stenciling.
If you are unhappy with your first attempt, simply scrape it off while it's still wet, wipe the surface with a damp cloth, and try it again.
Just barely skim the stencil for the slightly raised look.
Apply the plaster thicker for a highly dimensional raised look.
For a more dramatic look, use a lighter or darker colored plaster than your background.
For a really exciting dimensional effect, create a drop shadow. First stencil in the desired area using paint. Then move the stencil a fraction of an inch, and use the plaster.
Almost any plaster will do.  But you can add even more character by using a specialty plaster like Fine Stone or Pearl Plaster from Artisan Enhancements. Fine Stone from Artisan Enhancements is a great choice for raised stenciling. It is a low VOC, tintable plaster that has a "beach sand" aggregate texture. It's natural, earthy feel also evokes the organic appeal of stone and sand. Fine Stone can be applied for both indoor and outdoor use. It can be tinted with Chalk Paint®. Simply stir the color of your choosing into the Fine Stone before you get started. You can also use the Fine Stone right out of the container and paint over the plaster after you stencil.